Abraham Lincoln on Civil War Dog Tags
Lincolniana is Abraham Lincoln memorabilia and ephemera in a variety of formats, ranging from the serious and scholarly, to the outright silly and satirical. Here are some Lincoln collectibles in the category: "Civil War Dog Tags."
War of 1861
Not sure whether you'd survive the War Against the Rebellion? How, then, would your body be identified?
Civil War soldiers on either side of the battle had this worry, yet neither the United States government nor the Confederate States of America issued identification tags commonly called "dog tags" today.
Enterprising sutlers (civilian merchants who sold provisions to an army in the field) set up tent-stores near the theatre of war and sold their wares to soldiers. Along with tobacco and sugar, sutlers also sold machine-stamped dog tags of brass or lead. These tags featured a design on one side that frequently featured phrases like, "War of 1861" or "Against Rebellion 1861," and a blank side on the reverse, which could be engraved with the soldier's name. A hole in the tag made it easy to run a string or cord through so the tag could be worn around the soldier's neck.
This one shows a picture of Abraham Lincoln. You can tell from the blank reverse that it was unissued. It sold on eBay in February 2010, for $410.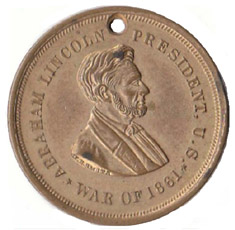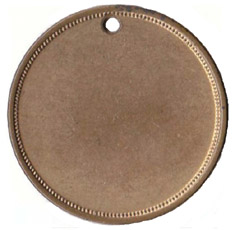 This brass Civil War dog tag of the same design (1-3/8") shows that it was issued: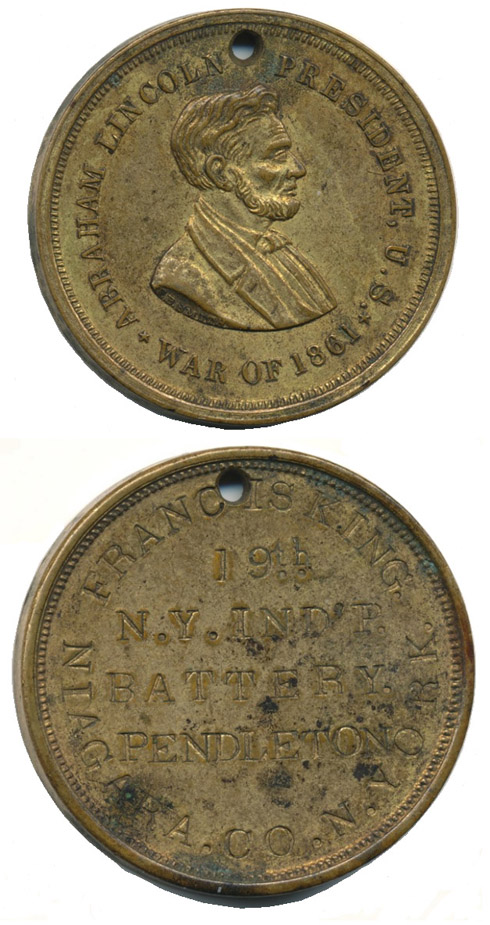 This dog tag
was put up for auction in August 2013, by eBay seller extantamericana1, who sells many historical items through two eBay IDs: extantamericana
and extantamericana1
. With four days remaining, bidding had reached $660.
This Civil War dog tag shows a Union shield, which, incidentally, would have been a far better choice for the new penny design. It sold on eBay n February 2010, for $255.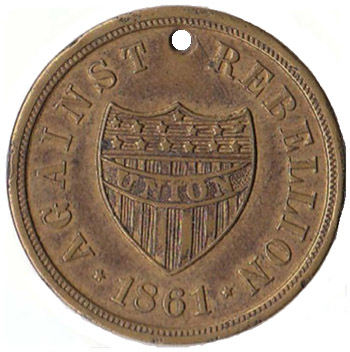 Civil War dog tags frequently appear on eBay. Reproductions are also available and are frequently used by those who re-enact Civil War battles.

Search for Civil War dog tags
on eBay
(yields more items than shown here)