Abraham Lincoln Podcast
The Everything Lincoln podcast is an American history podcast--an audio show that you can listen to whenever it's convenient for you.
You don't have to have an iPod to listen to a podcast! You can listen to the show on your computer (with Apple iTunes or Windows Media Player or something similar). Or you can download it and move it to your portable MP3 player (an iPod or other MP3 player).
Don't miss the latest episode! Subscribe to this podcast so that you'll automatically get each episode when it's available. Learn how to subscribe. It's free!
Current Episode
Tad Lincoln
Episode 3: Tad Lincoln was the Lincoln's fourth and youngest son, born April 4, 1853. He and his brother Willie were quite, er, rambunctious in the White House. Tad accompanied Mary Lincoln to Europe after the death of President Lincoln. Tad died as a young man in Chicago.
15 minutes
Read about it:
Tad Lincoln:

Recent Episodes
Mezzara's Lincoln Statue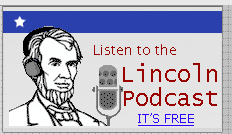 Episode 2: The first statue of Abraham Lincoln erected in the United States was the San Francisco statue by Pietro Mezzara. The statue was destroyed in the 1906 San Francisco earthquake.
11 minutes
Read about it:
First Lincoln Statue (Mezzara):

Lincoln's Birthday
Episode 1: Lincoln's birthday and the Presidents' Day myth. Several autobiographical accounts and one recollection of Lincoln's birthplace by painter Thomas Hicks.
17 minutes
Read about it:
Cousin Dennis Hanks Tells about "Nancy's Boy Baby"
Lincoln's Autobiographical Accounts
Lincoln's Recollection about His Birthplace
The Honest-Abe Truth about President's Day
Abraham Lincoln's Birthday: