Abraham Lincoln Campaign Ferrotypes
What is a ferrotype?
(jump to the end of this article)
Ferrotypes were commonly used in the 1860 and 1864 campaigns for small campaign pins and buttons.
Lincoln-Hamlin Ferrotypes
This 1860 Lincoln-Hamlin ferrotype pin featured Abraham Lincoln on one side and Hannibal Hamlin on the other. It was listed on eBay
by walnutts
, who frequently lists items of historical interest. The ferrotype pin ended at $635 on March 21, 2011. The ferrotype pin is about 15/16" in diameter. The brass frame bears the year of 1860 on both sides, and the name "Abraham Lincoln" and "Hannibal Hamlin" on the appropriate sides. A hole in the top of the frame allowed a supporter to insert a ribbon to use as a lanyard.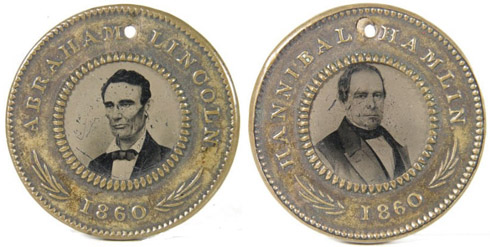 The same type of ferrotype campaing pin sold on eBay
in August 2013, to the highest of 12 bidders at $570. Lincoln's face had slightly heavier spotting than the pin shown above, and Hamlin's face was noticeably marked with black spotting. Prior to that, in May, one with spotting sold for $305.
This really nice specimen
was listed by extantamericana1 (who sells many historical items through two eBay IDs: extantamericana
and extantamericana1
) in July 2013. It sold to the highest of 13 bidders for $1,202.
These come up frequently on eBay so be sure to compare condition before bidding.
What is a Ferrotype?
Ferrotypes (often confused with daguerreotypes) are photos on tin, popular from about 1853-1920. Four different types of mediums were popular at various periods in Lincoln's life:
Daguerreotype (ca. 1839-1860): photo on polished silver plate; required a dangerous process, heating mercury and using the vapors to develop the plate

Ambrotype (ca 1851-1870): photo on glass; cheaper than daguerreotypes to produce but generally resulted in a duller image

Ferrotype (ca. 1853-1920): photo on tin

CDV or carte-de-visite (ca. 1850-1900): photo on paper--usually a very heavy card stock

Search for Lincoln campaign ferrotypes
on eBay
(yields more items than shown here)