Abraham Lincoln Steinbach Nutcracker
Lincolniana is Abraham Lincoln memorabilia and ephemera in a variety of formats, ranging from the serious and scholarly, to the outright silly and satirical. One popular Lincoln collectible is the Steinbach nutcracker.
The Steinbach nutcracker American President series issued the first and second president nutcrackers in the series (George Washington and Abraham Lincoln) in 1992. Later presidents in the series included Thomas Jefferson and Theodore Roosevelt. The base of the Lincoln nutcracker includes a plate that says: American Presidents / Abraham Lincoln / 1809-1865.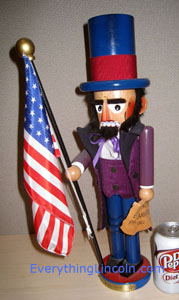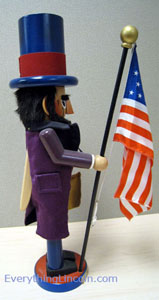 Mr. Lincoln stands about 18-1/2" tall on a 4-1/2" diameter base. He wears a purple corduroy vest and a purple jacket, and carries a flag in one hand and a "leather" Emancipation Proclamation.
The Abraham Lincoln Steinbach nutcracker was a limited edition of 12,000. Each is numbered on the bottom.