Abraham Lincoln Medals and Medallions
Lincolniana is Abraham Lincoln memorabilia and ephemera in a variety of formats, ranging from the serious and scholarly, to the outright silly and satirical. Here are some Lincoln collectibles in the category: "Medals and Medallions."
A variety of medals and medallions commemorate Abraham Lincoln events and anniversaries, as well as places named in his honor--such as the Lincoln Heritage Trail. These include myriad cameos and portraits.
2009 Medals from the US Mint
The Abraham Lincoln 3" Bronze medal from the US Mint went on sale in the second quarter of 2009. The purchase price directly from the mint was $38.00. As you can see, the box contains the medal packaged in a plastic bag, a hard plastic holder that snaps together so you can display the medal, and a small card describing the medal.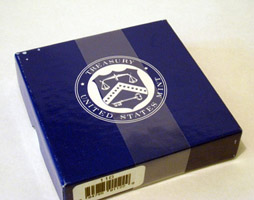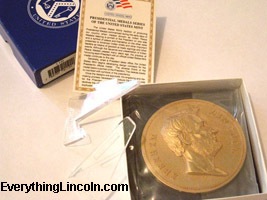 The medal was minted at the Philadelphia Mint but carries no mint mark. It is made up of 90% copper and 10% zinc. The front of the medal features the portrait of Lincoln. The words "Abraham Lincoln" are on the border on the face of the medal.
The reverse side, designed by George T. Morgan, features an oak and laurel wreath within a pearled ring. Within the wreath is a spray of pine and cedar. It is circled by serpent, tail in mouth. This is the Egyptian symbol of eternity and immortality. The inscription in the wreath reads, "INAUGURATED PRESIDENT OF THE UNITED STATES MARCH 4, 1861. SECOND TERM MARCH 4, 1865. ASSASSINATED APRIL 14, 1865."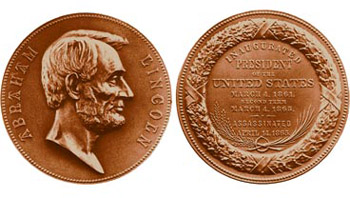 A smaller version of this medal was also minted at the same time. It is the 1-5/16" Abraham Lincoln Bronze medal, priced directly from the US Mint for $3.50. It is shown here with the 3" medal, with a Lincoln penny added to show scale.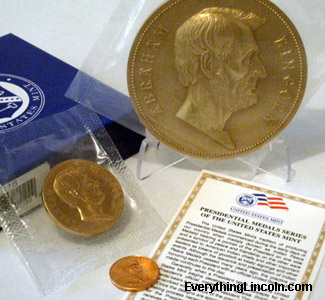 I have only to say that I accept this present of the ladies as an additional token of your confidence, but I do not need any further evidence of loyalty and devotion of the women of America to the cause of the Union and the cause of Christian humility.

- Speech accepting Medal from Ladies of the Fair, June 16, 1864