LeRoy Neiman
"Lincoln" Oil on Canvas, 1969
"Most people can properly guess who did the painting," said Illinois State Historian Thomas Schwartz in 2007, when the Illinois Historic Preservation Agency acquired LeRoy Neiman's 1969 painting of Abraham Lincoln.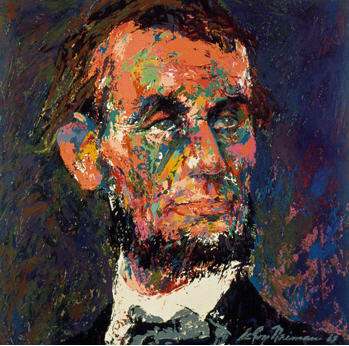 Lincoln, 1969
The idea for the painting, called "Lincoln," was that of Bernard Slepak, a close friend of Neiman, with Neiman facilitating the commissioning of the work, according to Chicago Business. Slepak sold the painting to the State of Illinois for $100,000. (The funds came from the Abraham Lincoln Library and not from taxpayers.)
Neiman's Lincoln work was commissioned as an oil painting by Ralph Newman, the late founder of the Abraham Lincoln Book Shop in Chicago. Neiman studied several of the many Abraham Lincoln statues in Chicago for inspiration. "Lincoln" is an oil on canvas based on Anthony Berger's image of Lincoln taken at Mathew Brady's studio on February 9, 1864.
"Lincoln" was made into silk-screen prints in the mid-1970s. You can acquire one of 750 limited edition "Lincoln" colored 18"x18" serigraphs today for $3250 at the Abraham Lincoln Book Shop and the Double-Take Gallery.
"Homage to Lincoln" Oil on Canvas, 2009
Inspired by the Abraham Lincoln Bicentennial, LeRoy Neiman painted "Homage to Lincoln." The 2009 serigraph (17"x17") was a limited edition of just 345, with 69 artists proofs and 9 printers proofs. It is available for $2415 at The Official LeRoy Neiman Website.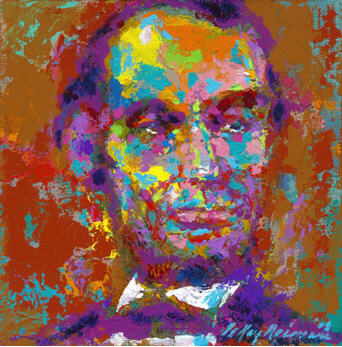 This closeup of Lincoln's eyes shows the detail of Neiman's style: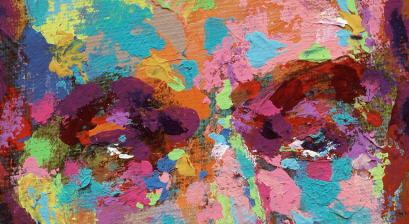 LeRoy Neiman, Prolific Artist
LeRoy Neiman was born on June 8, 1921 (frequently cited online as 1927) in St. Paul, Minnesota. He described himself as a "street kid." He studied at the School of the Art Institute of Chicago, where he later taught. Neiman worked alongside Hugh Hefner for a Chicago department store in the early 1950s. When Hefner started Playboy magazine, Neiman's artwork appeared in many issues. Largely due to his Playboy association, his subsequent artwork depicting sporting events and athletes gained wide popularity. His painting of Abraham Lincoln was the first in a series of historical figures that also included Napoleon.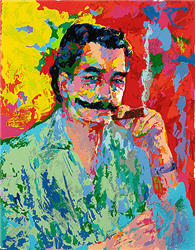 Neiman the Artist, 2004
Neimanís output of silkscreens is prolific. He produces about six subjects a year in the serigraph medium, generally priced from $3,000 to $6,000. Wikipedia cites LeRoy Neiman's gross anual sales of new serigraphs at over $10 million. Neiman favors serigraph for "its ability to capture the vibrant colors, immediacy and movement of his paintings," according to ArtDaily.org. Approximately 150,000 of his silkscreen prints have been sold to individuals, making him one of the most collected artists of the 20th and 21st centuries.
LeRoy Neimanís work can be found in museums throughout the country, including the Whitney Museum of American Art in New York and the Museum of Fine Arts in Boston. Today, Neiman's 1969 "Lincoln" oil painting can be found at the Abraham Lincoln Museum in Springfield.
sources:
"Artist Biography: LeRoy Neiman," The Official LeRoy Neiman Website, http://www.leroyneiman.com/leroy-neiman-biography.asp
"LeRoy Neiman," Wikipedia, http://en.wikipedia.org/wiki/LeRoy_Neiman
Merrion, Paul. "Illinois Agency Pays $100K for Neiman's Lincoln," Chicago Business, May 9, 2007, http://www.chicagobusiness.com/article/20070509/NEWS07/200024931/ill-agency-pays-100k-for-neimans-lincoln.
"Neiman, Leroy (b1927). 'Lincoln' Color Serigraph, signed," Abraham Lincoln Book Shop, http://www.alincolnbookshop.com/html/prints_paintings_sculpture.htm#Prints&Paintings
"Silkscreens from LeRoy Neiman's Archives at Franklin Bowles Galleries," ArtDaily.org, http://www.artdaily.com/index.asp?int_sec=11&int_new=37950&int_modo=2
how to cite this article:
Gentry, Renee. "LeRoy Neiman," November 2010, EverythingLincoln.com, http://www.everythinglincoln.com/lincoln-art/neiman.html.