Lincoln Museum:
Ft. Wayne, Indiana
Closing Falls Short of Lincoln Bicentennial
"We want a name so proud that men and women will give their lives to keep it stainless. We want a name so simple and strong that the wole world will remember it and love it. There is only one name in all the world that will fill these requirements, Abraham Lincoln."

With these words by board member Perry A. Randall, the Lincoln National Life Insurance Company was establish in June, 1905, at Ft. Wayne, Indina.
Seven weeks later, the company felt that it should get permission to use a picture of Lincoln on the business letterhead. Just one more week elapsed until an answer was received from Lincoln's oldest son. In a letter dated August 3, 1905, Robert said to secretary and manager Arthur F. Hall:
"Replying to your note of July 28th, I find no objection whatever to the use of a portrait of my father upon the letterhead of such a life insurance company named after him as you describe; and I take pleasure in enclosing you, for that purpose, what I regard as a very good photograph of him."
He enclosed the photo that was later used for many years as the portrait on the $5 bill: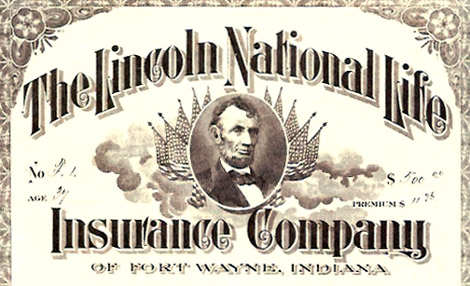 Though established during an economic downturn, the company continued to grow. It eventually constructed its own building, dedicating it on November 7, 1923. This building featured a room of special significance:
"One of the most imposing rooms in the new building is that reserved for the meeting of the Board of Directors. Because it is readily accessible, being on the first floor just to the left of the entrance lobby, it will be utilized for a public reception room when the directors or not in session.

"Pictures of Abraham Lincoln, part of them original photographs, donated by friends of the company, will adorn the walls. Other bits of Lincolniana will be displayed in a large case.

"The effort of amassing Lincoln material is being carried on, and the Lincoln Room will be of more and more value to those who seek intimate glimpses of the man whose ideals of service were taken for the service ideals of this company."
Louis A. Warren joined the company on Lincoln's birthday in 1928, specifically to propose and work on a Lincoln memorial. Warren was a Christian minister and editor of a small paper in the early 1920s, when he began writing and speaking about Lincoln. Through a series of contacts, he was employed by the Lincoln National Life Insurance Company to establish a new Lincoln department: The Lincoln Historical Research Foundation.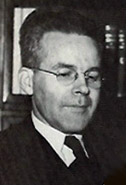 Warren acquired the 1500 manuscripts of Richard Thompson, a leading Whig politician and friend of Lincoln. He also obtained the loan of the personal papers of Hugh McCulloch, a Ft. Wayne citizen, and Secretary of the Treasury under Lincoln.
The most complete collection of books and pamphlets on Abraham Lincoln was assembled in 1930, with the acquision of the Daniel Fish Library and the Albert H. Griffith collection. The Lincoln library and museum was formally dedicated on February 11, 1930. Samuel M. Foster, chairman of the board, said this in his Welcome Address:
"No motive of commercialism or profit entered into our plans to assemble this wealth of Lincolniana--We seek merely to provide the means and the channel through which there may continue to flow an ever increasing volume of information concerning Lincoln, especially to the youth of our land, that they may be influenced to think and to live as Lincoln did--'with malic towards none and charity for all.'"
To publish new findings in the field of Lincolniana, Warren established Lincoln Lore. Its first issue was published on April 15, 1929. Starting as a weekly tear sheet intended for newspapers to use for filler articles, the publication eventually became one of multiple pages published quarterly.
Having assembled a full collection of Lincoln Lore issues, I came to appreciate Warren's writings, and those of his successors (including Gerald R. McMurtry and Mark E. Neely, Jr.) at what became the Lincoln Museum. In early 2008, I received a notice from the Museum that it would be closing on June 30, 2008.
The Insurance Company had supposedly come under new corporate ownership. Those owners apparently did not share former chairman Foster's hope for "a means and a channel" to aid the flow of Lincoln-related information and influence. Rather, they were choosing to close the Musuem less than eight months shy of the Bicentennial of Abraham Lincoln's birth.
I made a trip to Ft. Wayne in mid-June, eager to see the Lincoln Museum. They had a generous photography policy and said I could take pictures as long as I did not use a flash. Given that it would be my only chance to see the wonderful objects and collections in the Museum, I took nearly 100 photos. What follows is a sample of what, now, you may never get a chance to see for yourself.
---
December 2008 Addendum: The Indianapolis Business Journal reports that some of the Lincoln Museum collection from Ft. Wayne will be moving to the Indiana State Museum in Indianapolis. Lincoln fans can expect to see the first exhibit in early 2010.
Excerpts from the article:
Here's a run-down on the collection, which touches on Lincoln's presidential and personal life: 7,000 19th Century prints; 5,000 original 19th Century photographs; 350 documents signed by Lincoln; 18,000 rare books and pamphlets; 200,000 newspapers and magazine clippings; 350 19th Century sheet music titles.

New board members of Friends of the Lincoln Museum in Fort Wayne will be chosen to raise an $8 million endowment for care of the collection, said Annette Moser, spokeswoman for Lincoln Financial Group. They also will continue helping with educational programming and bringing in Lincoln scholars.

Most of the printed documents will stay in Fort Wayne, but the two crowd-pleasers — the Emancipation Proclamation and Thirteenth Amendment — will be on display downtown at the State Museum in White River State Park.
---
The Lincoln Museum on Berry Street, Ft. Wayne, Indiana, June 2008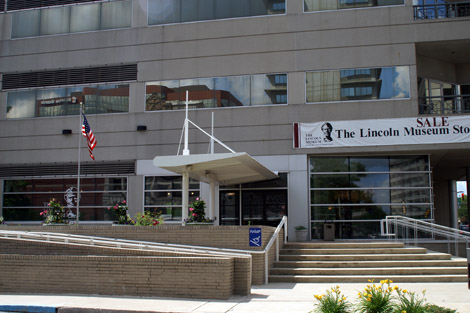 The History of the Lincoln National Life Insurance Company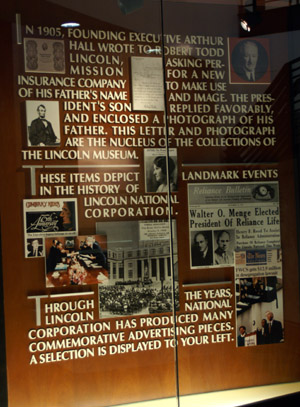 Wall of Abraham Lincoln Portraits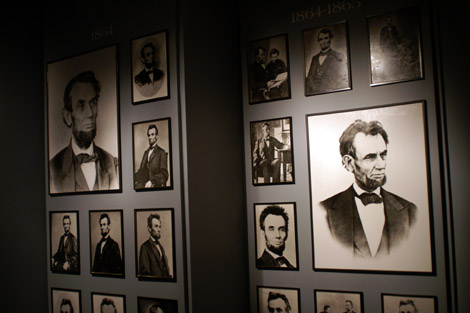 Continued on next page
Author of this article: Renee Gentry
Photos: Copyright 2008 Renee Gentry

sources:

Neely, Jr., Mark E. Easy to Remember: A Brief History of the Lincoln National Life Insurance Company, Fort Wayne, IN: Lincoln National Life Insurance Co., 1980

Warren, Louis A., "Lincoln National Life Foundation Background and Origin," Lincoln Lore, Number 1610, Ft. Wayne, Indiana: The Lincoln National Life Insurance Company, April, 1972