Lincoln's Farewell to Sarah Bush Johnston
Painting by Frederic Mizen
It was in the midst of selecting cabinet members when Abraham Lincoln took three days out of his schedule to make his final visit to his beloved step-mother, Sarah Bush Johnston Lincoln. She had become his step-mother a year after his own mother had died. Thomas Lincoln went back to Kentucky to look for a wife. Having known Sarah when he lived in Kentucky and hearing that she had since become a widow, he asked her to marry him. From the time she and her three children came to Lincoln's Indiana home, Abraham Lincoln called her "Mother."
After his father died, Lincoln maintained 40 acres in his own name to be held for his step-mother as long as she lived. (She passed away in April 1869, at the age of 80.)
On the morning of January 30, 1861, Lincoln boarded a Great Western Train. He changed to the Illinois Central train, and planned to make yet another connection to Charleston, but discovered that the train had already departed. Instead, he boarded the caboose of a freight train and made it by nightfall to Charleston. The next morning, he drove by horse and buggy eight miles to Farmington in Coles County, where his step-mother was living.
There is some disagreement about exactly what was said, but you can be sure that Lincoln and his step-mother exchanged expressions of their love for one another. At separate times prior, Lincoln had called his step-mother a "good and kind mother" and she said he was more well-behaved than her own children. It is this farewell exchange that artist Frederic Mizen has depicted in his painting, "Lincoln's Farewell to His Stepmother."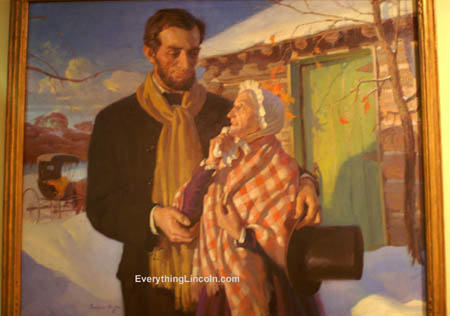 Frederic Mizen, "Lincoln's Farewell to His Stepmother"
oil on canvas, 1938
from the collection of the former Lincoln Museum in Indiana
source: Warren, Louis A. "Lincoln's Farewell to His Stepmother," Lincoln Lore, number 502, November 21, 1938.