Abraham Lincoln and the Coins He Carried
Abraham Lincoln was bound to work for his father until the time he was 21, with those wages rightly belonging to Thomas Lincoln. But of course, Lincoln also earned his first wages for himself. This is the story of that ocassion told by Lincoln:
"A steamer was going down the river. We have, you know, no wharves on the western streams, and the custom was, if passengers were at any of the landings they were to go out in a boat, the steamer stopping, and taking them on board." While at the landing, a steamer approached, coming down the river.

"Two men with trunks came down to the shore with trunks...and asked, 'Will you take us and our trunks out the the steamer?'

'Certainly,' said I. I was very glad to have the chance of earning something, and supposed that both of them would give me a couple of 'bits.'

The trunks were put on my boat, the passengers seated themselves on them, and I sculled them out to the steamer. They got on board, and I lifted the trunks and put them on the deck. The steamer was about to put on steam again, when I called out, 'You have forgotten to pay me.'

Each of them took from his pocket a silver half-dollar and threw it in the bottom of my boat. I could scarcely believe my eyes as I picked up the money. You may think it was a very little thing, and in these days it seems to me like a trifle, but it was a most important incident in my life. I could scarcely credit that I, the poor boy, had earned a dollar in less than a day: that by honest work I had earned a dollar. I was a more hopeful and thoughtful boy from that time."
(Story related by William Seward years after Lincoln told it to him. Recorded by Wayne Whipple, The Story Life of Lincoln
, pp. 62-63.)
It was in 1827 or 1828 that Lincoln earned those half dollars. They were likely Capped Bust Half Dollars, a coin that was minted from 1807-1839.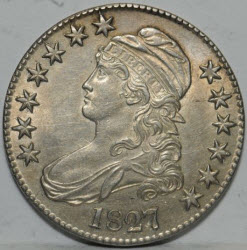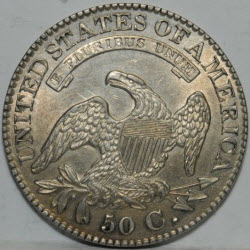 This 1827 Capped Bust Half Dollar
is listed by eBay seller foxyoffers

for $950 as of August 2013
Did you know Abraham Lincoln appears on a half dollar coin?
What other coins might Lincoln have carried in his pockets during his lifetime? No one can be sure, but these coins were minted in years during the Lincoln era making it likely that he carried them in his pockets:
Half Cents:
Classic Head Half Cent (1809-1836)
Braided Hair Half Cent (1840-1857)

Cents:
Classic Head Cent (1808-1814)
Matron Head Cent (1816-1839)
Braided Hair Cent (1839-1857)
Flying Eagle Cent (1856-1858)
Indian Head Cent (1859-1909)

Two Cents:
Two Cents (1864-1873)

Three Cents:
Three Cents - Silver (1851-1873)
Three Cents - Nickel (1865-1889)

Half-Dimes:
Capped Bust Half Dime (1829-1837)
Seated Liberty Half Dime (1837-1873)

Dime:
Capped Bust Dime (1809-1837)
Seated Liberty Dime (1837-1891)

Capped Bust Quarter

Capped Bust Half Dollar
Seated Liberty Half Dollar

Seated Liberty Dollar
Liberty Head Gold Dollar
Indian Princess Gold Dollar

Capped Bust Quarter Eagle ($2.50)
Classic Head Quarter Eagle ($2.50)
Liberty Head Quarter Eagle ($2.50)

Three Dollars

Capped Bust Half Eagle ($5)
Classic Head Half Eagle ($5)
Liberty Head Half Eagle ($5)

Liberty Head Eagle ($10)

Liberty Head Double Eagle ($20)
See also: The Confederate $5 Bill in Lincoln's Pocket
---
Classic Head Half Cent (1809-1836)
The half cent was one of the original denominations authorized by the Mint Act of 1792. It was slightly smaller than today's quarter and was made of 100% copper.
The Classic Head half cent weighed 5.45 grams, the equivalent of just over two modern pennies. It was first struck the same year that Abraham Lincoln was born: 1809. Mintage of these half cents was from 1809 through 1811, 1825 and 1826, 1828 and 1829, and from 1831 through 1836.
No half cents were issued by the U.S. Mint between 1837 and 1839, but a privately issued token was issued in a similar style to other official U.S. coins of the time.
Designer: Engraver John Reich
Designer (1825 modification): Chief Engraver William Kneass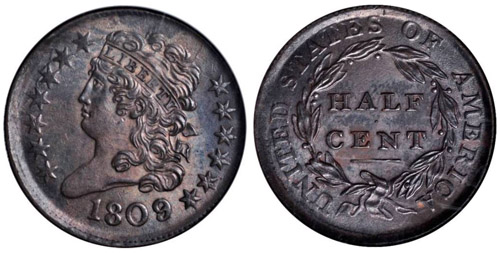 This 1809 Classic Head Half Cent
is listed by sce343
(Stateline Coin Exchange) on eBay for $2,999 or best offer.
The seller has many coins at a variety of price points.
---
Braided Hair Half Cent (1840-1857)
The Braided Hair half cent was issued by the U.S. Mint in 1840. It was issued as a proof-only issue from 1840-1848 and also in 1852, so those dates are the rarest of the Braided Hair half cent. After 1850, most of the coins went to the Post Office to use in making change. The Braided Hair half cent was minted through 1857, when the half-cent denomination was discontinued by the U.S. Mint.
Designer: Christian Gobrecht (used same design as his Braided Hair Cent)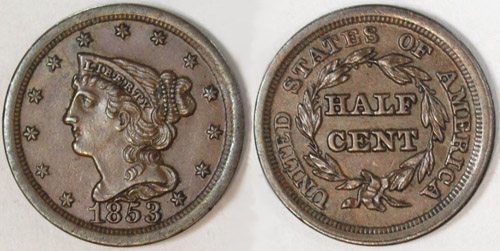 ---
Classic Head Cent (1808-1814)
The Classic Head large cent design appeared a year before the Classic Head half cent. It was issued from 1808 to 1814. Made from 100% copper, it was twice the weight of the half cent, weighing 10.89 grams (the weight of almost four and a half modern pennies). It was slightly larger than a modern quarter.
Designer: Engraver John Reich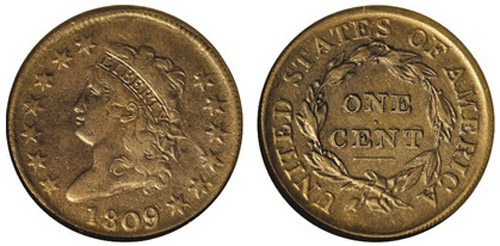 ---
Liberty Head (Matron Head / Coronet Head) Cent (1816-1839)
The Liberty Head large cent minted from 1816 to 1839 is often called the Matron Head large cent or the Coronet Head large cent. It was made from 100% copper. The 1817 design stands out; for some reason, there are 15 stars on the front.
Designer: Chief Engraver Robert Scot
Designer (1839 modification): Christian Gobrecht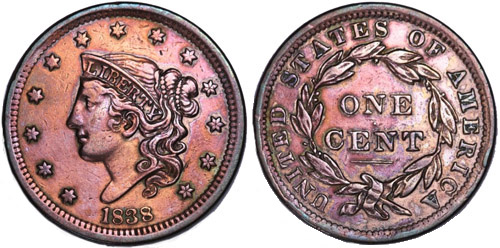 1838 - Lincoln is re-elected to the Illinois Legislature

This 1838 Coronet Head Cent
is for sale by coinman_2000
(Spotlight_Coins)
for $180 or best offer
---
Liberty Head (Braided Hair) Cent (1839-1857)
The Liberty Head or Braided Hair large cent was also minted in 1839, made of 100% copper. It was the exclusive cent issued by the U.S. Mint from 1840 to 1855. It shared the limelight with another cent (the Flying Eagle cent) in 1856 and 1857.
From 1839 to part of 1843, Liberty is leaning forward. In 1843, Liberty's head became more upright and she got a bit older looking.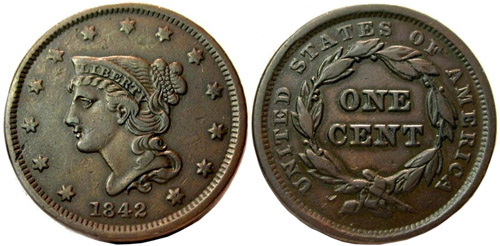 1842 - Abraham Lincoln marries Mary Todd Lincoln

This 1842 Braided Hair Cent
is for sale by fairtraderz
for $140
---
Flying Eagle Cent (1856-1858)
The Flying Eagle small cent was a more manageable coin compared to the Braided Hair cent because it was smaller. At the time, the public was glad to rid itself of the large cent. It was 19mm, compared to the 27mm large cent. Given the rising price of copper, the Mint moved away from a 100% copper coin; the Flying Eagle Cent is 88 percent copper and 12 percent nickel. The public called these cents "nicks."
The Flying Eagle cent was issued from 1856 to 1858. It's not clear why the issue was so short-lived, but collectors speculate that it was because the tail feathers of the eagle were difficult to fully strike.
The 1856 issue is actually an unauthorized issue because it was made at Mint Director James Ross Snowden's direction without Congressional approval.
Obverse Designer: Christian Gobrecht (his design for the flying eagle on the reverse of the Gobrecht dollar was used)
Reverse Designer: James B. Longacre (this design was already in use on the gold dollar and $3 coins)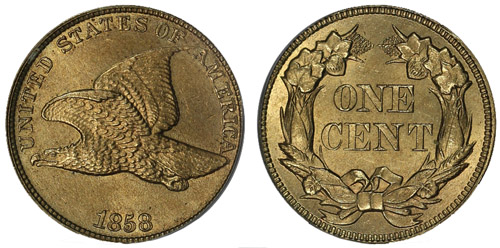 1858 - Lincoln gains national notoriety because of the Lincoln-Douglas Debates
This outstanding example of an 1858 Flying Eagle Cent
is for sale by illini420

for $4,599 or best offer. Check out the big pictures on eBay--beautiful!
---
Indian Head Cent also known as Indian Head Penny (1859-1909)
In considering designs for the new small cent, Mint Director James Snowden suggested that Chief Engraver James Longacre design the head of Christopher Columbus for the new coin. According to CoinCommunity.com, Longacre said the idea was "entitled to consideration" but reminded Snowden that such a design was likely to be opposed by the public, saying, "How can it be relieved of any of the objections that have theretofore prevailed against the introduction of the head of [George] Washington upon the coinage of the United States?" The U.S. citizens did not want kings or queens or even their beloved President on their coins.
The Indian Head small cent, which today we call the Indian Head penny, was the design Director Snowden finally chose. It was first struck in 1859, the year after Lincoln became a prominent national figure thanks to the Lincoln-Douglas Debates. The coin featured Lady Liberty wearing a traditional American Indian headdress.
In the first year of issue, the design of the Indian Head cent did not include a federal shield at the top of the closed laurel wreath on the reverse. Between 1860 and 1909, the coin reverse included a shield above an open oak wreath. In mid-year 1909, the Indian Head cent was replaced with the Lincoln cent in honor of the centennial celebration of Abraham Lincoln's birth.
From its inception through some of 1864, the Indian Head cent was made of 88 percent copper and 12 percent nickel. But in 1864, the Mint made a radical departure in coinage philosophy. Up until that time, the Mint had assumed that the public would not accept money with small intrinsic value. But by the end of 1862, there were virtually no U.S. coinage in circulation because it had been set aside by hoarders and speculators. A money substitute then appeared on the private market in the form of Civil War Token and the public embraced them. These Civil War Tokens had little intrinsic value and simply represented a promise that they could be redeemed for goods or services.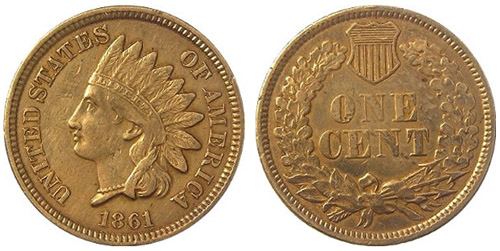 1861: Abraham Lincoln takes office in March as the 16th President
So in 1864, the Mint followed suit and changed the metal composition and reduced the weight by a third, reducing the intrinsic value of the cent. It was changed to 95 percent copper, 5 percent tin and zinc.
Designer: U.S. Mint Chief Engraver James B. Longacre
Longacre's initial "L" appears in the ribbon on the front of some of the 1864 cents, but it was later removed because of criticism. This is similar to what happened with the 1909 Lincoln penny by Victor Brener.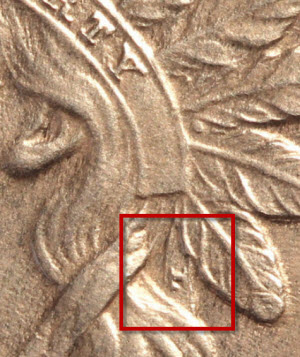 Do you collect 1909 cents? Be sure you have all six major coin types/varieties, including the Indian Head cent, the Lincoln cent with VDB initials, the Lincoln cent without initials--all struck at both Philadelphia (no Mint mark) and San Francisco (S Mint mark).
The above 1909 mint set of every non-gold coin
issued in 1909 is a must-see! You'll have to pick up discarded pennies from a lot of parking lots to afford it, but it will still be a great treat just to look at it if you click the image.
---
Two Cents (1864-1873)
Coin shortages during the Civil War brought about the Two Cents coin. In 1864, the Mint introduced a thinner Indian Head cent of a cheaper metal composition. Thinking a two-cent coin could help alleviate the coin shortage, it minted almost 20 million Two Censt coins that same year. The coin rapidly declined in popularity after the Civil War ended, though, when other coinage that had previously been hoarded was reintroduced into circulation. Thus, the Two Cents coin was minted in declining numbers until 1873.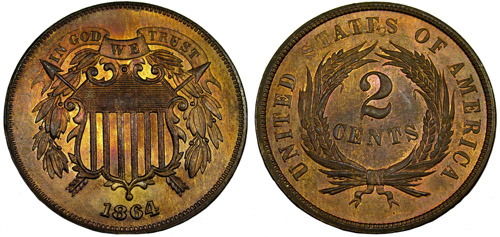 This 1864 Two Cent coin
is listed at $489 by RPHolderCoins
The Two Cents coin was one of the least successful coins in Mint history, but it is notable in that it was the first U.S. coin to include the motto IN GOD WE TRUST.

---
Three Cents - Silver (1851-1873)
The Three Cents coin was created to meet the needs beget by two events of the day. First, with gold coming out of California in rich supplies, the metal value of gold was depressed compared to the value of silver, which lead to both the hoarding and melting of silver coins (that is, the silver coinage of the time became worth more for its silver content than the face value of the coin). Consequently, supplies of silver coins were short.
At the same time, merchants needed a coin with which to make change given that large cents and half cents were a pain to deal with in quantity. Meanwhile, the Post Office was about to reduce the price of the basic rate from five cents to three cents.
The 1851, the three-cent coins, called "trimes," were first made of low-grade silver so that it was not profitable to melt them for the silver content--their composition was 75 percent silver and 25 percent copper. They were just over 14mm and were very light: just 0.8 grams. The public called them "fish scales" because they were so small they were easy to lose--a real problem because men of this period made a living wage at just 10 cents an hour.
In 1854, the weight of the coin was reduced, though the silver content was increased to 90% to match other silver coins produced in that period. (The other silver coins had recently been reduced in weight to discourage hoarding and melting.) The design of the 1854 coin to indicate the reduction in weight marks the mintage as Type 2. The design was subsequently modified in 1859 (Type 3), to help correct striking problems.
Type 1: Star on the front has a single outline (1851-1853)

Type 2: Star on the front has two extra outlines to indicate a reduction in the coin's weight, which meant less silver by weight went into the coin that the Type 1 (1854- 1858)

Type 3: Star on the front has just one extra outline (1859-1873)
The silver Three Cents trime was discontinued in 1873.
These Three Cents coins were the first U.S. coin to depict a design of something other that Lady Liberty.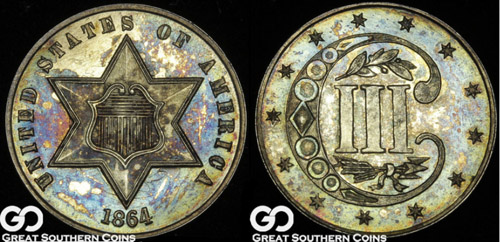 This 1864 Silver Three Cent coin
sold on an eBay auction for $1,000 in September, 2013, by a very active and reputable seller: Great Southern Coin
(nearly 100,000 perfect feedbacks!)
---
Three Cents - Nickel (1865-1889)
In spite of the fact that the silver Three Cent trime was in production, the nickel Three Cent coin was introduced in 1865. Silver hoarding was a problem; in fact, the shortage of coins had lead to a variety of alternatives including private Civil War tokens, encased postage, and fractional paper currency. It was the fractional paper currency that the public really hated: compared to coins, the paper wore out quickly and could easily be lost. So when, in 1864, Secretary of the Treasury Salmon P. Chase proposed an issue of three-cent postal currency, Congress quickly passed a bill to create the nickel Three Cents coin.
It was called "nickel" because, though it was copper, the color was whitish. It was 75 percent copper and 25 percent nickel. Compared to the silver Three Cents piece, the nickel one was larger (17.9mm) and significantly heavier (1.9 grams) so it wasn't so easily lost.
The coin was an initial success in that the public was able to replace the despised fractional paper currency. The silver Three Cents coin was discontinued in 1873, making the nickel coin the only circulating three-cent piece from 1874 to 1889, when postage rates were increased and the three-cent coin denomination was discontinued.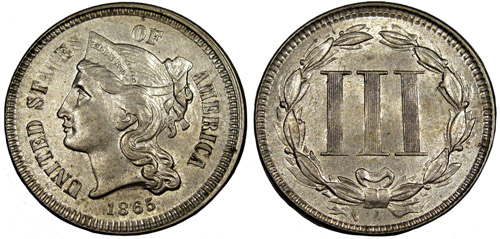 This 1865 Nickel Three Cent coin
is offered on eBay by RPHolderCoins
for $249
If you'd like to learn more about these coins, check out CoinCommunity.