Mary Todd Lincoln:
First Lady of the Land
see also Mary Todd Lincoln First Spouse Gold Coin
"Mary was quick, gay and in the social world the more brilliant. She loved show and power, and was one of the most ambitious women I ever knew. She used to contend, when a girl, to her friends in Kentucky, that she was destined to marry a President. I have heard her say that myself, and after mingling in society in Springfield, she repeated the seemingly absurd and idle boast."
Such was the description of Mary Todd Lincoln by one of her sisters. To this, Dr. William A. Evans--the late authority on the life of Mary Todd Lincoln--added:
"She [Mrs. Lincoln] was thoroughly educated and trained in polite society. No better educated woman entered the White House in the first hundred years of the presidency. She was a linguist, a super-conversationalist, a good writer--a woman of wit, mental quickness, most entertaining and of great charm."

Born in the "Athens of America"
Robert S. Todd was son of the famous General Levi Todd. He was a well-to-do merchant and cotton manufacturer, prominent citizen, and close friend of Henry Clay. Robert's wife, Eliza Parker Todd, also came from a distinguished line of ancestors--some being friends of George Washington. The Todds lived in the part of Kentucky which represented the height of Southern society: Lexington, then known as the "Athens of America."
Mary Todd was the third child in this well-bred family, born on December 13, 1818. When Mary was just six years old, her mother Eliza died of a post-birth bacterial infection. Mary's father found a wet nurse for baby George, then was called away on business.
Fourteen months later, Robert S. Todd married Elizabeth "Betsey" Humphreys. Over the next 15 years, nine half-siblings joined Mary's family. Though Mary enjoyed such privileges as showing her new white pony to family-friend Henry Clay, and attending the finest schools in the area, Mary described her childhood as "desolate." She did not get along with her step-mother and felt rejected by her father.
She told a friend that her early home really was at the boarding school she attended when she was 14. There at Madame Mentelle's Academy, Mary learned to speak fluent French.

Mary's Temper Flares
Author Michael Burlingame, in The Inner World of Abraham Lincoln, relates this story about young Mary Todd:
As a ten-year-old, Mary had a run-in with Betsey Todd over an attempt to dress up like an adult. With the aid of long willow branches, Mary had clumsily tried to convert her narrow muslin frock into a hoop skirt. When her stepmother saw this, she exclaimed, 'What a fright you are' and ordered the child and her companion, Elizabeth L. Norris, to 'take those things off, & then go to Sunday school.' Norris later recalled that 'we went to our room chagrined and angry. Mary burst into tears, and gave the first exhibition of temper I had ever seen or known her to make. She thought we were badly treated, and expressed herself freely on the subject.'
Isolated, this story could describe a day in the life of any 10-going-on-20 year old, and seems to be a trivial tale about a willful daughter and a mother (step, or otherwise). But Mary's poor relationship with her step-mother seemed to be similar to how her younger brother George--the last of the children born to Eliza Parker Todd--described things.
George complained he had been forced to leave home "in consequence of the malignant & continued attempts on the part of his stepmother to poison the mind of his father toward him." George claimed that his father was "mortified that his last child by his first wife should be obliged, like all his other first children, to abandon his house by the relentless persecution of a stepmother."

A Move to Springfield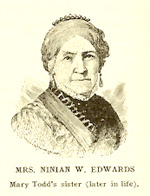 All four of Robert Todd's daughters by his first wife left Lexington when they came of age. The oldest, Elizabeth, married Ninian Edwards. Settled in Springfield, the young Mrs. Edwards invited Mary to live with them. Soon after her arrival in 1839, Mary was introduced to the law partner of her cousin John Todd Stuart: Abraham Lincoln.
Lincoln made his first appearance in society in Springfield, Illinois. It was not a prepossessing figure which he cut in a ballroom, but still he was occasionally found there. Miss Mary Todd, who afterward became his wife, was the magnet which drew the tall, awkward young man from his den. One evening Lincoln approached Miss Todd, and said, in his particular idiom:

"Miss Todd, I should like to dance with you the worst way."

The young woman accepted the inevitable, and hobbled around the room with him. When she returned to her seat, one of her companions asked, mischievously:

"Well, Mary, did he 'dance with you the worst way?'"

"Yes," replied Miss Todd, "the very worst!"
Source: The Story-Life of Lincoln (page 155)

Mary had her suitors in Springfield, including Stephen Douglas. Lincoln, too, is said to have had been interested in at least two other women. By 1840, Lincoln and Mary were engaged, but in January of 1841, Lincoln broke the engagement. In the same general period, Lincoln's close friend Joshua Speed had been deciding whether to marry Fanny Henning. Waffling over a similar matter, Lincoln wrote to Speed on October 5, 1842:
...But I began this letter not for what I have been writing, but to say something on that subject which you know to be of such infinite solicitude to me. The immense sufferings you endured from the first days of September till the middle of February you never tried to conceal from me, and I well understood. You have now been the husband of a lovely woman nearly eight months. That you are happier now than you ever were the day you married her I well know, for without you could not be living. But I have your word for it, too, and the returning elasticity of spirits which is manifested in your letters. But I want to ask a closer question, "Are you now in feeling as well as judgment glad that you are married as you are?" From anybody but me this would be an impudent question, not to be tolerated; but I know you will pardon it in me. Please answer it quickly, as I feel impatient to know. I have sent my love to your Fanny so often, I fear she is getting tired of it. However, I venture to tender it again.

Yours forever,
Lincoln.

On November 4, 1842, Lincoln and Mary decided to marry that day. Mary's oldest sister, Elizabeth Todd Edwards, hastily made arrangements and that evening, hosted the wedding at her home in Springfield.
The Lincolns boarded at Globe Tavern, where Robert Todd Lincoln was born. Thereafter, the Lincolns moved in 1844, to the only house they would ever own--the house that has come to be called The Springfield Home. Here, Lincoln's second son was born, Edward "Eddy" Baker Lincoln, in 1846.
Historians don't know what to make of the Lincoln's marriage. Outwardly, it seemed a marriage of opposites. Lincoln's third law partner, "Billy" Herndon, described Mary this way:
"She was of average height, weighing, when I first saw her, about one hundred and thirty pounds. She was rather compactly built, and had a well-rounded face, rich dark-brown hair, and bluish-gray eyes. In her bearing she was proud but handsome and vivacious. Her education had been in no wise defective. She was a good conversationalist, using with equal fluency the French and English languages; when she used a pen, its point was sure to be sharp, and she wrote with wit and ability. She not only had a quick intellect, but an intuitive judgment of men and their motives. In her figure and physical proportions, in education, bearing, temperament, history--in everything she was the exact reverse of Lincoln."
Much has been said of Mary's ambition. Some have speculated Lincoln wouldn't have been president without her, but Herndon (who did not like Mary--the feeling was mutual) described Lincoln's ambition as a "little engine that knew no rest." It is more likely that the relationship that Lincoln and Mary shared was mostly a partnership, with a bit of a psychological twist thrown in.
In an age when women were not supposed to have an interest in politics, Mary had a keen interest in the subject, was well-studied, and articulate. Perhaps her interest in politics started through her family friendship with Henry Clay, a man Lincoln deeply admired. Some have said Lincoln needed to care for someone in a paternalistic way and that Mary needed a father figure. But as it is commonly said, no one understands a particular marriage except the two people in that marriage.
Without doubt, Mary's temperament was quite the opposite of Lincoln's. One of their Springfield neighbors recalled that the Lincolns "got along tolerably well, unless Mrs. L[incoln] got the devil in her." Gourley described Mary as being "gifted with an unusually high temper" that "invariably got the better of her." If "she became excited or troublesome, as she sometimes did when Mr. Lincoln was at home,...he would apparently pay no attention to her. Frequently, he would laugh at her, which is a risky thing to do in the face of an infuriated wife; but generally, if her impatience continued, he would pick up one of the children and deliberately leave home as if to take a walk. After had had gone, the storm usually subsided, but sometimes it would break out again when he returned."

And on to Washington...and Again
When Lincoln went to Washington as a Congressman in 1848, Mary and their two sons came with him. But soon Mary decided to take the boys to her father's house in Lexington, Kentucky. Mary wrote to Lincoln, reporting that her step-mother, who "hate[d] the whole cat race," had an unpleasant incident with Eddy and a cat to which he took a liking. Nonetheless, Mary seemed to think her step-mother more tolerable than before.
Lincoln and Mary were playful in letters, sometimes being flirtatious, but mostly concerned over their children. With Mary in Lexington and Lincoln alone in Washington, Lincoln wrote on April 16, 1848:
Dear Mary:

In this troublesome world, we are never quite satisfied. When you were here, I thought you hindered me some in attending to business; but now, having nothing but business--no variety--it has grown increasingly tasteless to me....

And are you entirely free from head-ache? That is good--good--considering it is the first spring you have been free from it since we were acquainted. I am afraid you will get so well, and fat, and young, as to be wanting to marry again. Tell Louisa I want her to watch you a little for me. Get weighed, and write me how much you weigh.

I did not get rid of the impression of that foolish dream about dear Bobby till I got your letter written the same day. What did he and Eddy think of the little letters father sent them? Don't let the blessed fellows forget father....

Most affectionately,
A. Lincoln

Returning to Springfield, the Lincolns took up a life out of formal politics. Eddy--who had always been sickly--died in Springfield in February 1850, just one month before his fourth birthday.
The Lincoln's third son, William "Willie" Wallace Lincoln, was born in December of that year. About two and a half years later, Thomas "Tad" Lincoln was born.
When Lincoln left Springfield in February 1861, to return to Washington again, this time as president-elect, he said this to his Springfield neighbors:
My friends--No one, not in my situation, can appreciate my feeling of sadness at this parting. To this place, and the kindness of these people, I owe every thing. Here I have lived a quarter of a century, and have passed from a young to an old man. Here my children have been born, and one is buried. I now leave, not knowing when, or whether ever, I may return, with a task before me greater than that which rested upon Washington. Without the assistance of that Divine Being, who ever attended him, I cannot succeed. With that assistance I cannot fail. Trusting in Him, who can go with me, and remain with you and be every where for good, let us confidently hope that all will yet be well. To His care commending you, as I hope in your prayers you will commend me, I bid you an affectionate farewell.

The social circles in Washington were dominated by Southern women. Because Mary strongly supported the ideals of her Republican husband, those circles snubbed her. The other women in Washington distrusted Mary because she was Southern-born. Eventually, as they would point out, four of her brothers and three of her brothers-in-law enlisted in the Confederate army.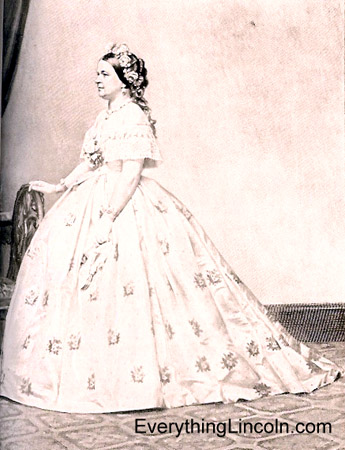 Mary Lincoln in Washington, D.C.
Refurbishing the White House
(100 Years before Jackie Kennedy Did It)
Unaccustomed to a cold welcome like that she received in Washington, Mary had no intention of fading into the background. She became "the First Lady of the land--the term coined to describe her. Mary set out to make the Executive Mansion (as the White House was then called) a home worthy of the president. To say it needed some attention was an understatement. As Lincoln scholar David Donald describes:
The furniture was broken down, the wallpaper peeling, the carpeting worn, and the draperies torn. The eleven basement rooms were filthy and rat-infested. The whole place had the air of a rundown, unsuccessful third-rate hotel.
She took a shopping trip to New York and Philadelphia, where the merchants gladly showed the First Lady the finest furniture and fabric, carpeting and china. Mary bought it all.
Congress had allowed $20,000 over the President's term for the refurbishment. When the bills came in, Mary was horrified to discover she had spent far more in that one spree than was appropriated for the next four years. She desperately tried to hide the expenses and find other ways to cover them--including selling the second-hand furniture from the White House--but nothing helped. Finally, she had to enlist the aid of Benjamin B. French, the commissioner of Public Buildings, to explain the situation for Lincoln and to ask him to ask Congress for an additional sum.
Lincoln was outraged, saying he would never ask Congress for more money "for flub dubs for that damned old house!" He thought it terrible that it could be said the original appropriation was overrun "when the poor freezing soldiers could not have blankets." He would pay for the overrun himself, he said, but this was a practical impossibility so Congress quietly passed appropriations to cover the difference.

A Close Call...and One That Hit Home
Lincoln faced trouble and turmoil throughout his term. In fact, even before his first inauguration, Pinkerton had warned Lincoln of threats on his life. Such threats were common throughout his presidency, and some even turned to physical dangers ranging from gifts of poison food sent to Lincoln at the Executive Mansion, to a bullet shot through Lincoln's hat while he rode from the Mansion to the Soldier's Home.
Since late June 1863, the Lincolns had been staying at the Soldier's Home three miles from the Executive Mansion. It was an elevated spot where the Lincolns found relief from the heat and pressures of Washington. When Lincoln got called back to Washington on July 2, he left with a unit of cavalry to protect him. Mary followed shortly thereafter in the Lincoln's carriage. Someone had unscrewed the bolts that held the driver's seat in place. The seat gave way as the carriage descended toward Washington, throwing the driver and the footman to the ground. The horses were spooked and took off in a wild run, leaving Mary to try to leap to safety. But with all the jostling, she was thrown from the carriage and hit her head on a sharp rock. The wound became infected and Mary was bed-ridden for three weeks. The headaches of which Mary always complained became even more frequent, and Robert thought she never fully recovered from that fall.
Neither did Mary fully recover from far worse setbacks in her life. In 1862, her son Willie died after a long vigil with Mary at his bedside. And that famous assassin's bullet killed her husband in April 1865, just a month into his second term.
On May 22, 1865, Tad, Robert, and Mary moved from Washington to Chicago to begin life as ordinary citizens. Tad died six years later. Robert went on to a successful political and business career, though his wife felt that he was constantly in the shadow cast by his father. And Mary went on to live anything but an ordinary life.
Basler, Roy P. (ed.). The Collected Works of Abraham Lincoln, Volumes 1 and 4, New Brunswick, NJ: Rutgers University Press, 1953.
Donald, David Herbert. Lincoln, New York: Simon & Schuster, 1995
Kincaid, Robert L. Joshua Fry Speed: Lincoln's Most Intimate Friend, Harrogate, TN: Lincoln Memorial University, 1943.
Whipple, Wayne. The Story-Life of Lincoln, Memorial Edition, Philadelphia: The John C. Winston Co., 1908.