Abraham Lincoln on Silver Bars
Lincolniana is Abraham Lincoln memorabilia and ephemera in a variety of formats, ranging from the serious and scholarly, to the outright silly and satirical. Here are some Lincoln collectibles in the category: "Silver Bars."
A variety of silver bars commemorate Abraham Lincoln events and anniversaries, as well as companies and groups named in his honor. These include myriad cameos and portraits.
See also: Abraham Lincoln coins
1970 Lincoln Mining Company Silver Bar
The Lincoln National Life Company's Lincoln Museum (formerly of Ft. Wayne, Indiana), announced in 1972, that it had acquired a pure silver bar (ingot) with the firm name "Lincoln Mining Company." The 3-ounce silver bar is .999 fine, dated 1970. The announcement from the Lincoln Museum indicated that the silver bar could be obtained from Foster, Inc., 7 South 2nd, Walla Walla, WA 99362.
The front bears the image of Abraham Lincoln in three-quarters profile, with the inscription "Lincoln Mining Company, Coeur D'Alene, Idaho."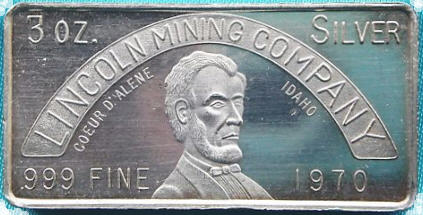 The back of the silver bar shows a prospector panning for ore, his burro looking anxiously at his activities and hoping for the best.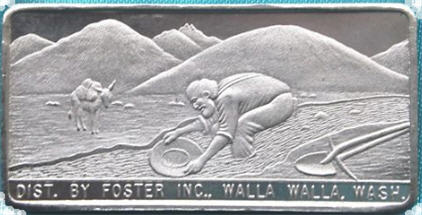 Two of these Lincoln Mining Company 3-oz. silver bars were listed in February 2011, in back-to-back eBay auctions by the same seller. Serial number 947 ended at $141.42, and the following week, serial number 2881 ended at $155.09. During this period, the spot price for silver was between $29 and $31 per ounce.
1972 Madison Mint Abraham Lincoln Silver Bar
A more common silver bar depicting Abraham Lincoln shows a right-facing profile of Lincoln, with a facimile of his signature under the portrait. Inscribed on the front is "One Ounce Pure Silver .999 Fine." These silver ingots were made by the Madison Mint (catalog number MAD-18) in 1972, and may or may not include a serial number on the front.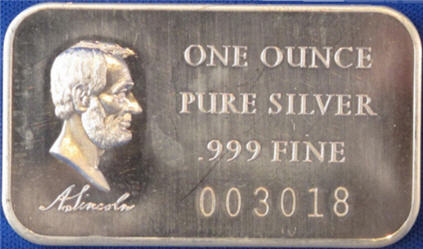 The back side of the silver bar is blank.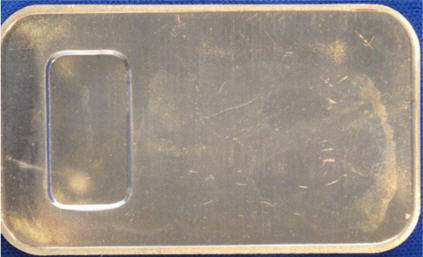 Bars bearing the serial numbers 021748 and 015635 sold at eBay auction in February 2011, for $37 each. (Number 669 was acquired by the Lincoln Museum in 1872.)

Scroll down to see a video about buying silver
1976 Madison Mint Bicentennial Presidential Cameos
Madison Mint made a series of silver bars in the Bicentennial Set of Presidential Cameos featuring 37 presidents from George Washington to Gerald Ford. The bar featuring Abraham Lincoln (catalog number MAD-60V4) shows Lincoln facing right in the profile shown on the front, surrounded by 50 stars. Inscribed is, "ABRAHAM LINCOLN 1861-1865, One Ounce, .999 Fine Silver." The back is stamped with the seal of the United States and inscribed with "1776-1976 Bi-Centennial."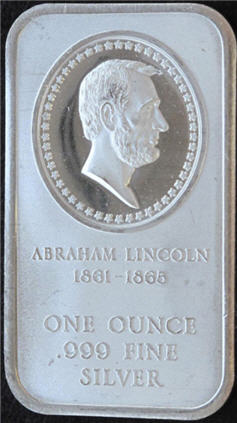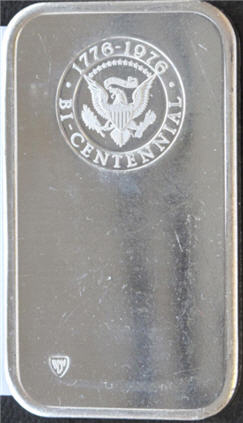 There is also a Madison Mint edition of a silver bar of the same design on the front, but with the stamp of an image of the Statue of Liberty on the back, with the inscription, "100 Years, 1886-1986."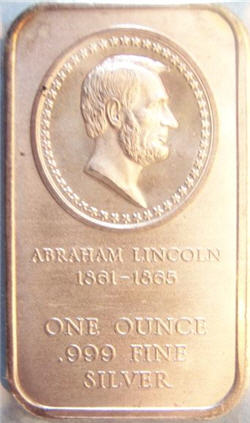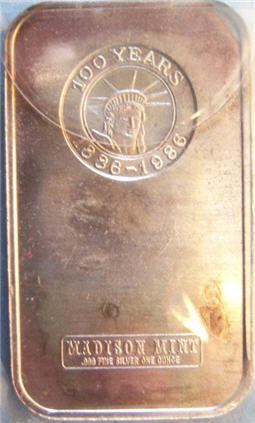 source:
R. Gerald McMurtry, Dr. (ed.), "Presidential Silver Ingots," Lincoln Lore, Number 1613, July 1972, Ft. Wayne, IN: The Lincoln National Life Insurance Company, p.2