China and Glassware
Lincolniana is Abraham Lincoln memorabilia and ephemera in a variety of formats, ranging from the serious and scholarly, to the outright silly and satirical. Here are some Lincoln collectibles in the category, "China and Glassware."
White House China
New York was the city in which Mary Lincoln went on her famous shopping spree, determined to raise the standard of living at the Executive Mansion. While there, she selected a pattern of china that would be used as the Lincoln White House china dinnerware.
The pattern was from E.V. Haughwout and Company, modified by Mary, who changed the border from blue to the fashion rage of the period: a purple-red color called "solferino." This china was used at a White House reception for 500 guests on February 5, 1862. The occasion? To celebrate the make-over of the great presidential residence.
The china dessert plate, like the one shown here, was one of the many Lincoln artifacts displayed at the Lincoln Museum's 2003 temporary exhibit, "Lincoln's Legacy: The Lincoln Museum 75th Anniversary Exhibit."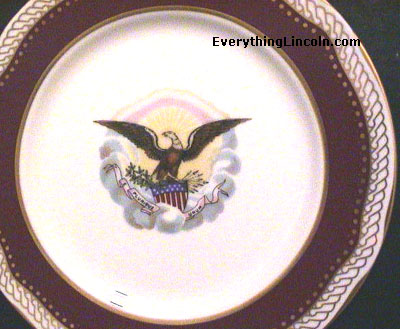 The Abraham Lincoln White House China Plate Collection was a limited edition issued by Woodmere China. A matching tea cup and saucer is also available. You can find these on eBay. They are also for sale at the Ronald Reagan Presidential Library gift shop.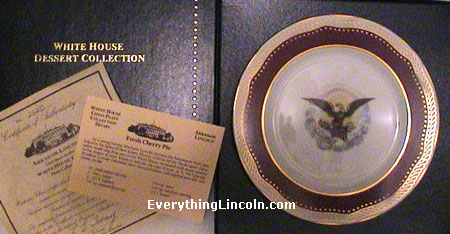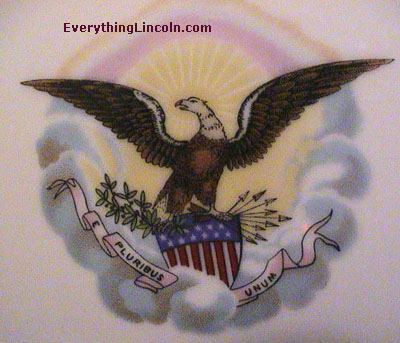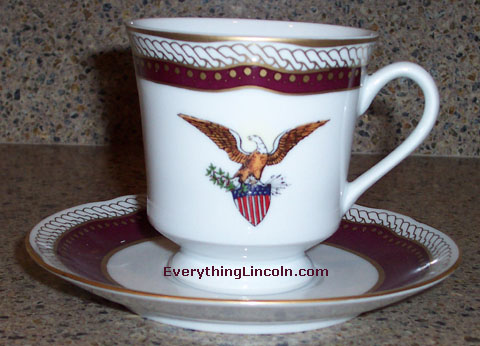 source: Lincoln Lore, numbers 1868 and 1873
photos copyright 2005 Renee Gentry