Abraham Lincoln
on Baseball Cards
Baseball cards aren't just for kids anymore, nor are the subjects related only to baseball.
Lincolniana is Abraham Lincoln memorabilia and ephemera in a variety of formats, ranging from the serious and scholarly, to the outright silly and satirical. Here are some Lincoln collectibles in the category, "Lincoln Baseball Cards."
Auto Cut Variety (Mostly Topps and Upper Deck):

Upper Deck:

SP Legendary Hair Cut Signatures (2009)
A Piece of History - Hair Cuts (2008)
Signs of History (2008)
Prominent Cuts (2009)
Presidential Emblem Cut Signature (2011)


Topps:

Abe Lincoln Variants (2010)
American Heritage (2009)
American Pie (2002) - Mt. Rushmore
American Treasures (2004)
Campaign (2008)
Civil War News (1962)
First Couples (2008)
Heritage: Hero's Journey (2009)
Heritage: Hero's Journey Stamp Collection (2009)
Look 'N' See (1952)
Presidential Pasttime (2004)
Presidential Plates (2009)
Scoop (1954)
US Presidents (1956)
US Presidents (1972)
Who Am I? (1967)
World Champions (2006)


Others:

Topps Allen & Ginter
Razor
Famous Fabrics Ink (2012)
Gridley: Heroes of History (1920s)
US Caramel (1932)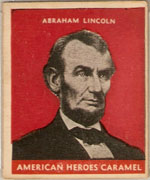 Did you know Civil War prisons helped to spread the game of baseball across the nation?
---