Politics to Pop Culture:
It's Everything Lincoln
Everything to do with Abraham Lincoln: biographies and articles, podcasts and educational materials, ephemera and pop culture. It's here!
Abraham Lincoln's Autobiography

Abraham Lincoln wrote that he moved to Kentucky "in my eighth year. We reached our new home about the time the State came into the Union. It was a wild region, with many bears and other wild animals still in the woods. There I grew up."

Read more about Abraham Lincoln's young life:

Dennis Hanks' Account of Baby Lincoln

Lincoln's Recollection about His Birthplace

Mary Todd was born into a well-bred Southern family. Her father was a well-to-do merchant and a prominent citizen. But in Washington, Mary Todd Lincoln was snubbed by the social circles of Southern women and not trusted by the other Washington women.

Lincoln's Cooper Union Address is the single most important event that led to his nomination for the presidency.


As Seen on eBay
A spotlight on interesting things related to Abraham Lincoln that are now selling on eBay, or have sold recently.
A Few Appropriate Remarks
Thoughts about Lincoln's character and political life.
Lincoln Dollar and Other Currency

By being memorialized on multiple denominations of US coins and currency, Abraham Lincoln is a leader in the Dead Presidents Club. His image is on the 1918 Illinois Centennial Half Dollar, America the Beautiful Quarters and State Quarters (including the 2003 Illinois State Quarter), the Lincoln penny (including a special one-cent series for Lincoln's bicentennial year), and more. Abe is even on a $5 Hard Rock Casino chip.

Abraham Lincoln liked cats, had several family dogs including Fido and Jip, kept goats and ponies at the White House, and had his horse Old Bob until the end.

Tad Lincoln was named Thomas Lincoln when he was born, but Lincoln soon gave him his famous nickname--described in podcast episode 3.

The Abraham Lincoln statue by Pietro Mezzara, described in podcast episode 2, was the first Lincoln statue erected in the United States.

The Battle of Hampton Roads was the site of the showdown between the USS Monitor and the CSS Virginia (more commonly called the Merrimac).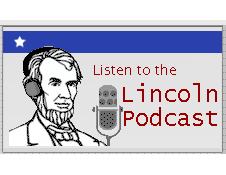 Check This Out!
See the tour of the Lincoln Museum of Ft. Wayne, which shut its doors in June 2008--and find out where the collection is moving.
Lincoln explains the Missouri Compromise of 1820.
The Lincoln Lore title index is now complete, from issue 1 published in 1929, to the current issue.
Read the complete book online: How We Elected Lincoln, the 1916 book by Lincoln elector (involved in both 1860 and 1864 elections) Abram J. Dittenhoefer.
---
If you have an iPad, be sure to get Flipboard (it's free) and add the Abraham Lincoln magazine (it's free, too)--brought to you by the folks behind EverythingLincoln.com. It's easy to learn how to add the Abraham Lincoln magazine to Flipboard.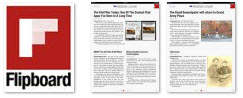 Now it's a snap to remember what you read here, and a mere click to "take notes." Look for the Evernote "Remember" button to instantly copy and save articles on the EverythingLincoln.com. Try it out on our three most popular articles: Mary Todd Lincoln, Tad Lincoln, Monitor vs. Merrimac. Or, see an example of how Evernote makes clipping information about Abraham Lincoln easy.
Neither let us be slandered from our duty by false accusations against us, nor frightened from it by menaces
of destruction to the Government, nor of dungeons to ourselves. Let us have faith that right makes might; and in that faith, let us, to the end, dare to do our duty, as we understand it.

- Speech at New Haven, CT, March 6, 1860